Download Free – Full Version – Torrents
Title: Stronghold Crusader 2: The Templar and The Duke
Genre: Simulation, Strategy
Developer: FireFly Studios
Publisher: FireFly Studios
Release Date: 1 Jul, 2015
Game Mode (s): Single-player, Multi-player
DESCRIPTION 
SCREENSHOTS 
SYSTEM REQUIREMENTS
TRAILER 
.NFO 
About This Game
The law of the Templar is coming to the desert! The Templar & The Duke DLC adds an extra Crusader Trail campaign and new AI characters, two Crusaders with contrasting origins, values and strengths. One is a brutal newcomer who embodies the Crusades' nebulous motivations, while the other stands as successor to King Phillip from the original Stronghold Crusader (2002). Both men desire a glorious victory in the Holy Land, with The Templar seeking to cleanse the holy land of heretics and The Duke hoping to emerge from Phillip's shadow and make his mark on the world, ideally without suffering too many casualties! The third expansion for Stronghold Crusader 2, The Templar & The Duke adds seven missions, two AI opponents, 10 achievements, five custom shields and new castle types unique to these new Lords.
New Missions
The fierce combat in our latest skirmish trail sets a challenging new benchmark for Stronghold players. New characters arrive in the deserts of the Holy Land brimming with personality, grit and their own selfish quests to pursue. The madcap eccentricity of The Duke will scatter your senses, conventional sieges often failing to penetrate his elaborate segmented castles with unconventional layouts. Meanwhile cold steel and sturdy resistance await those who dare challenge The Templar, who recruits only the toughest Crusader soldiers into his army and rigidly-designed castles. This ninth skirmish trail demands a completely new set of strategies from players. Carefully safeguard allies, fend off bandit outposts while keeping an eye on your real opponents and eventually fight your way up a mountain to conquer our toughest final mission yet.
The Templar
Once a rank and file soldier in King Richard's army, The Templar has since risen to power as a senior military commander in the Third Crusade. Even more resolute toward their righteous cause than his king, The Templar was promoted because of his brutal pursuit of the holy crusade and ability to indoctrinate fellow soldiers. Spending much of his military career as a foot soldier fighting in the Crusades, The Templar sees himself as a harbinger of justice from God. The Templar personifies the unwavering conviction that the Crusader Lords have in their mission and the lengths they will go to achieve it.
The Duke
Having traveled from France to 'fight the good fight' The Duke hopes to share in the glory of the holy crusade, should it succeed. In the event that the Crusaders should fail The Duke is always ready to retreat claiming he played no role in Richard's campaign, but for the moment he is present and prepared to lend his vast wealth and political standing to their cause. Blessed with a God-given right to rule, it goes without saying that The Duke had a pampered upbringing in the French Royal Court. It was here that he became the foppish and arrogant leader he is now, sheltered enough to build up a Lordly air and appearance but too distant from the battlefield or real cutthroat politics to become an effective ruler. The end result is a man who appears confident but is unsure of himself, joining the Third Crusade because he feels he has something to prove.
DLC Features
New Missions – Play your part in the Templar's holy crusade across seven missions in 'The Templar & The Duke' Skirmish Trail.
Two Characters – The Templar and The Duke join the battle as AI opponents in the new Crusader Trail, Skirmish Mode and online Multiplayer.
Unique Castles – Free-form designs with intricate walkways, killing zones, multiple towers and few weak points.
Custom Shields – Customize your in-game shield with five unique coat of arms designs, declaring your allegiance in the holy war.
Extra Achievements – Complete 10 new achievements as the ultimate proof of your skill as a commander.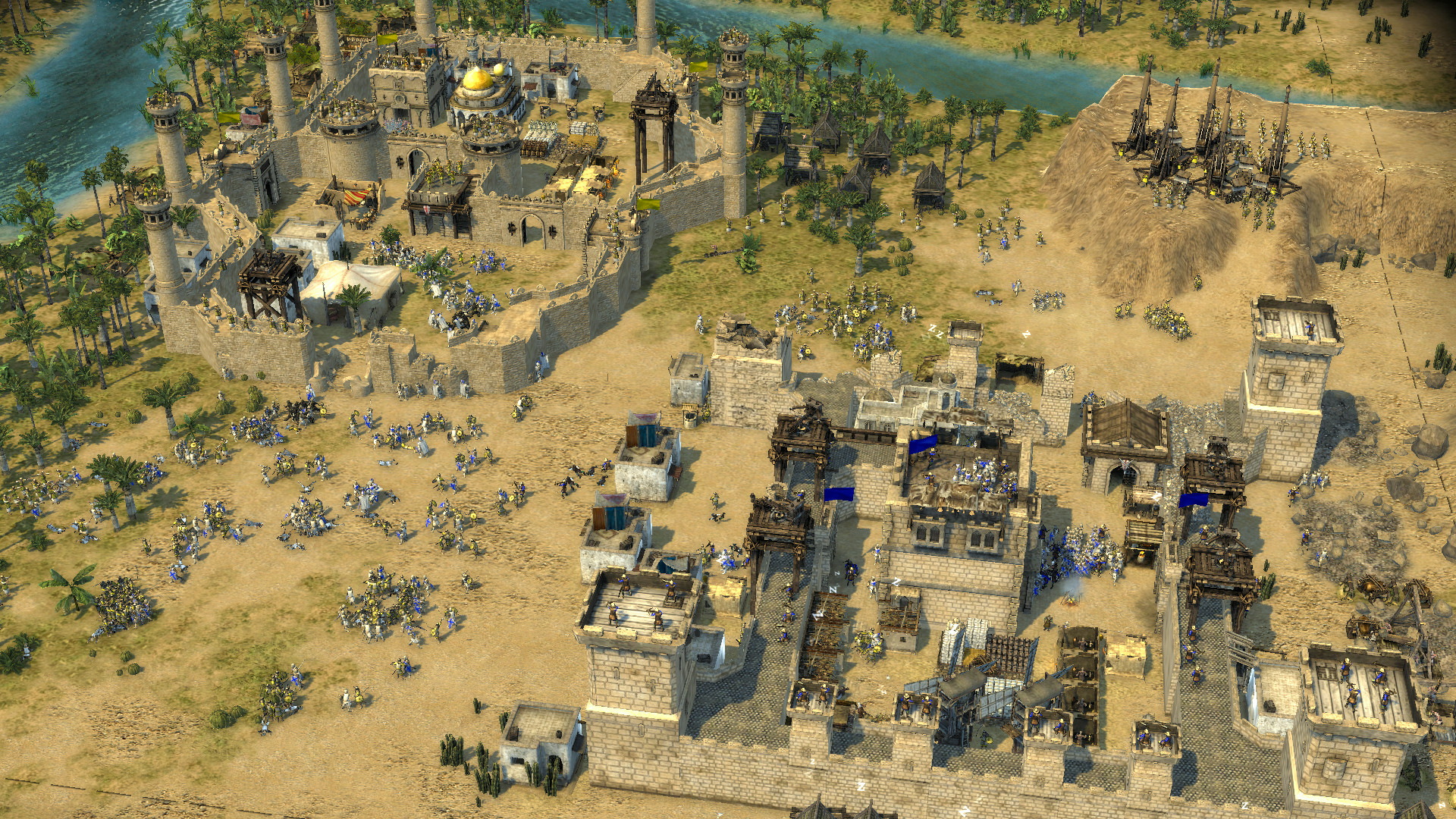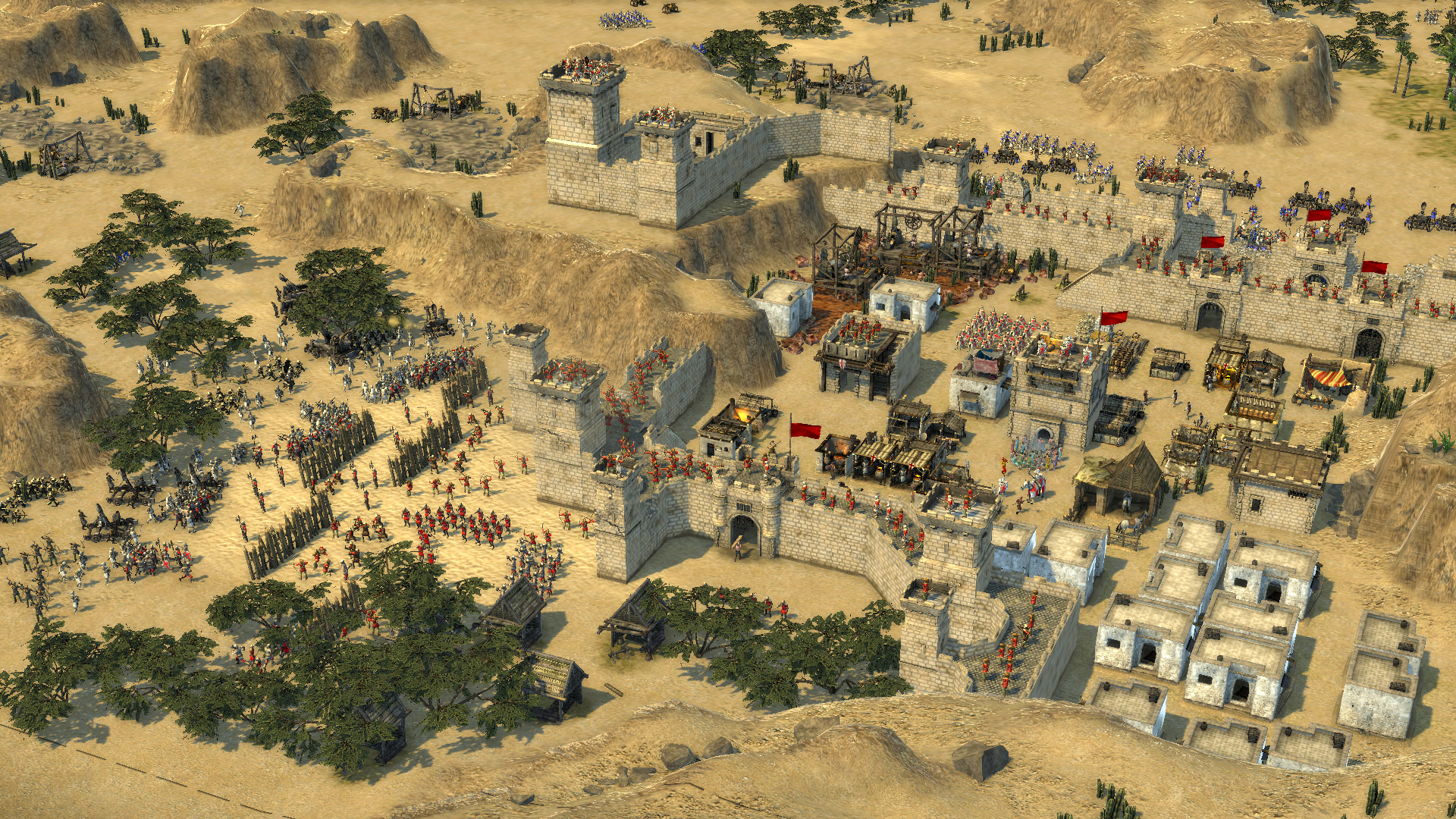 MINIMUM:
OS: Windows XP/Vista/7/8
Processor: Intel Core 2 Duo @ 2.0 Ghz / AMD Athlon 64 X2 4400+
Memory: 2 Gb
Hard Drive: 4 Gb free
Video Memory: 512 Mb
Video Card: nVidia GeForce 8800 / ATI Radeon HD 2900
Sound Card: DirectX Compatible
Network: Broadband Internet Connection
DirectX: 9.0c
Keyboard
Mouse
RECOMMENDED:
OS: Windows Vista/7/8 x64
Processor: Intel Core i5 @ 2.5 GHz / AMD Phenom II X4 @ 2.8 GHz
Memory: 8 Gb
Hard Drive: 4 Gb free
Video Memory: 1 Gb
Video Card: nVidia GeForce GTX 460 / AMD Radeon HD 5850
Sound Card: DirectX Compatible
Network: Broadband Internet Connection
DirectX: 9.0c
Keyboard
Mouse
[cc lang="php"] Stronghold Crusader 2: The Templar and The Duke (c) FireFly Studios
Release Date : 07/2015 Protection : Steam
Discs : 1 Genre : Simulation
The law of the Templar is coming to the desert! The Templar & The
Duke DLC adds an extra Crusader Trail campaign and new AI
characters, two Crusaders with contrasting origins, values and
strengths. One is a brutal newcomer who embodies the Crusades'
nebulous motivations, while the other stands as successor to King
Phillip from the original Stronghold Crusader (2002).
For more infos go to : http://store.steampowered.com/app/349230/
– Extract
– Burn or mount the .iso
– Run setup.exe and install
– Copy crack from CODEX dir to installdir
– Play
General Notes:
– Block the game's exe in your firewall to prevent the game from
trying to go online ..
– If you install games to your systemdrive, it may be necessary
to run this game with admin privileges instead
[/cc]
Download Link
Stronghold Crusader 2 The Templar and The Duke-CODEX-PC.Torrent
(Size: 3.01 GB)
Please Note: You will need uTorrent to download the game.
If you are kind enough you can share the site to your friends :D