Full Version – Download Game Free – Torrent
Title: Bloodbath
Genre: Action
Developer: Freedom Factory
Publisher: United Independent Entertainment GmbH
Release Date: 16 Jun, 2014
Game Mode (s): Single-player, Multi-player
DESCRIPTION 
SCREENSHOTS 
SYSTEM REQUIREMENTS
TRAILER 
INFO 
About This Game
Get ready to compete in the most brutal sport of the moment. In the Dog Eat Dog tournament, you should avail yourself of your ruthless fighting skills and crush your enemies if you want to make your way to victory. Fight alone or with friends, compete in multiple stages and game modes, and improve your favorite fighter. Bloodbath takes fighting games to a new dimension!
Bloodbath offers the most brutal action ever seen in a fighting game. Compete in numerous 3D interactive environments and enjoy a complete combat system that includes evasive and offensive maneuvers, spectacular combos, special skills and many features that makes each match in Bloodbath a completely new one.
Features:
Choose from 4 different game modes, which include various targets either alone or in teams.
Fight in 5 interactive stages where traps and mutants will make things even more difficult.
Master 6 unique characters, each one with their own features and combat skills.
Gain experience, level up and unlock multiple rewards.
Play online up to 6 players.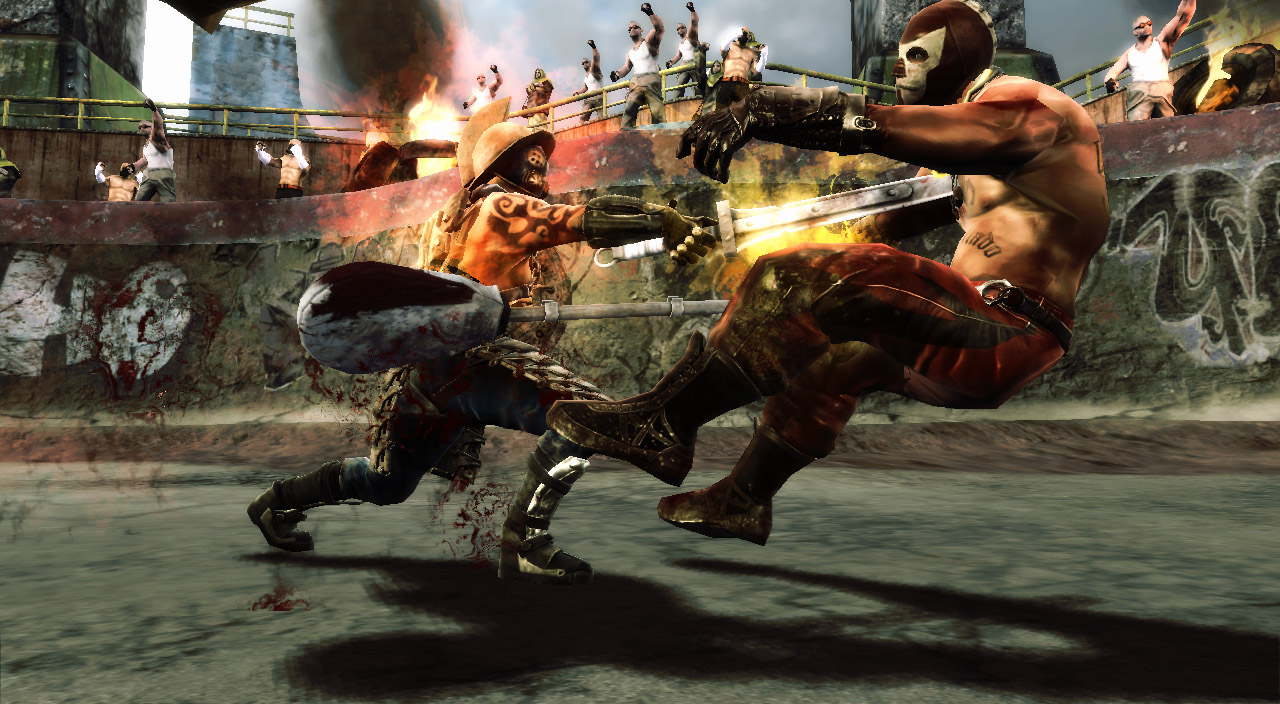 MINIMUM:
OS: Windows Vista / 7 / 8
Processor: Intel® Core™ i3 / AMD® Athlon™ 64 x2 or higher
Memory: 2 GB RAM
Graphics: Nvidia® GeForce™ 8800 GTS / AMD® Radeon™ HD 3850 or better
DirectX: Version 9.0c
Hard Drive: 1 GB available space
Bloodbath-CODEX
Bloodbath – Fight for your Life
Release Date: 01/2014 Protection : None
Discs : 1 Genre : Action
Set in a dystopian future, players will compete to literally stay alive against merciless adversaries in post-apocalyptic arenas around the world, each of them with a near endless array of life-terminating hazards and limb eviscerating death-traps. Bloodbath features six different fighters, each with their own special ablities and weapons, as well as a variety of battle modes for a dynamic multplayer experience
Single Player (play against bots) and Multiplayer possible
2) mount or burn the .iso
3) install & play
Note: We need anything you can offer as early releases,seedboxes, source links, accounts, contact us on http://torentz.3xforum.ro or http://torentz.tk Seed Stats: 20-400 GiB at aprox 10 MiB/sec/20 slots per torrent
How To Get Your MAXSPEED (uTorrent)
Torrent Client – Preferences – Bandwidth – Number of connections – Set aprox. 500 for each
Torrent Client – Preferences – BiTorrent – Protocol Encryption – Forced
Bandwidth Allocation – High (Set download/upload limit – Unlimited)
Stop Other Active Torrents – Start downloading and wait for connections.
Enjoy and Seed for at least 1:1 ratio. Don't forget to say thanks/leave reviews.
For more info,crack only,PATCH,serial,keygen,trainers,CRACKFIX,UPDATES,
system requirements,cheats,NFO,gameplay trailers,Free Downloads,
pc iso,demos,screenshots,visit some RELEASE SITES or official web pages.
IF the game does not work for you then update drivers, directX, components
as netframework/redist files/etc, run as administrator, change compatibility
mode, block/disable access to internet, copy crack/overwrite, other tweaks,upgrade pc,etc
Search on scene release websites for any future updates/working status/etc and
other quality filesharing sites or just use this – other torrent search functions
Stop using stupid av's as AVG reporting false positive viruses-disable or use ESET

Bloodbath Download Link
Bloodbath-CODEX-PC.Torrent
(Size: 493.18 MB)
Please Note: You will need uTorrent to download the game.
If you are kind enough you can share the site to your friends :D